If you want to check the status of an existing ticket, manage your Community and Help Center posts, or manage the people and articles you are following, My Activities is the place to do just that.
My Activities
To get to My Activities, click on your profile picture and choose My Activities.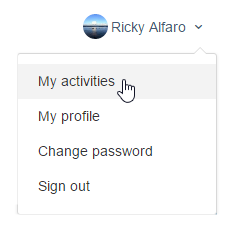 From there, you can choose either Requests, Contributions, or Following:
Requests
This is where you can see your open or solved requests, requests you are CC'd on, and all organization requests (if you have the appropriate permission).
My Requests
All requests you have created will be listed. You can search for a request by keywords or phrases in the search box, filter requests on a specific status, and sort your requests by either Created or Last activity.
Requests I'm CC'd on
This will list all requests you are cc'd on. You can search, filter, and sort the same as the My Requests tab.
Organization Requests
If you have permission to see all requests for the entire organization, you will have this tab available. You can search, filter, and sort the same as the My Requests tab. If you want to be notified of all new requests for your organization, you can click the Follow button next to the search bar.
Contributions
If you want to review all posts you have made to the Community or review comments you posted to the Community or Help Center, the Contributions section is where you can do this.
Following
The Help Center allows you to follow any Section, Article, Topic, Post, or User. This tab will list everything you are following. It can be filtered to just show you one of the things you are following by clicking the Show All drop down and choosing a filter option. You can choose to unfollow specific items from the list by clicking the Unfollow button at the end of the list item you wish to no longer receive updates on.